NeverStopExploring.com (no longer online)
"Never Stop Exploring" is both the North Face's tagline and title for their blog. This was taken as a challenge for what an online storytelling platform and content initiative could be to recreate the official blog of The North Face athletes and community.
Built several years ago on the Typepad blogging platform, the North Face's "Never Stop Exploring" blog wasn't living up to its name. All content was displayed in a single column, and had a format with no differentiation between epic expeditions and company news releases. We were brought in to rethink their content strategy and publishing methods: how could we design an experience that provided content hierarchy, serialized storytelling, athlete information, and a way to generate revenue from inspirational content – clear calls-to-action to purchase products mentioned in stories.
We started by identifying content initiatives. The largest content initiatives are Expeditions, serialized dispatches over several weeks, telling the full story of a North Face expedition from start to finish. Secondary content are event stories and shorter posts that lack the depth of an expedition. Tertiary content is product information and corporate news from the North Face.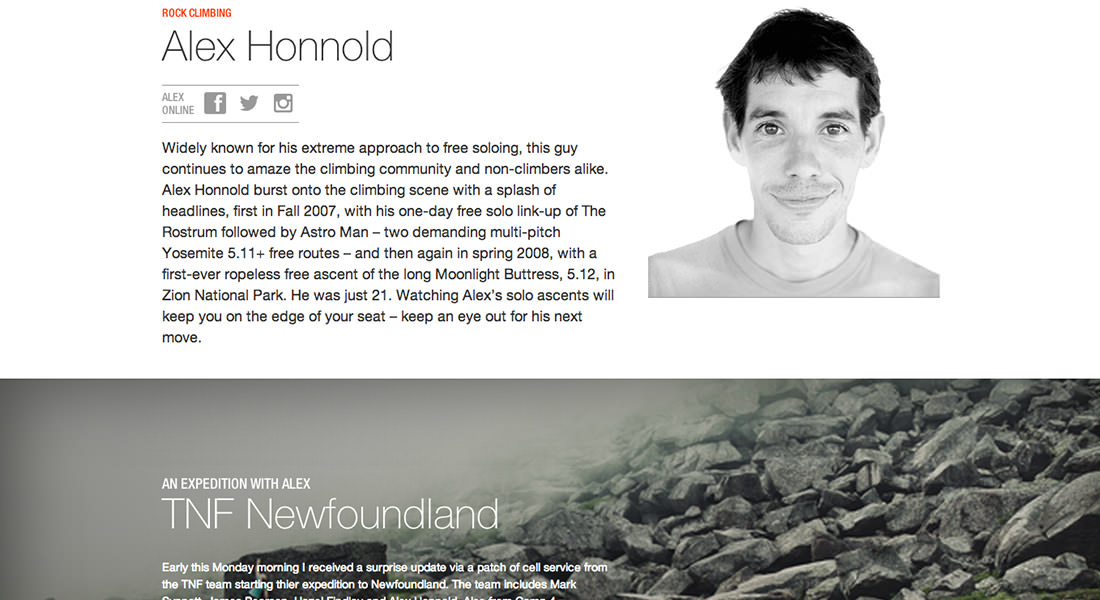 Expeditions required a series of data relationships within the customized WordPress Content Management System (CMS). Each Expedition is made up of a series of Dispatches, a team of athletes, and can be classified by activity type (rock climbing, running, etc.). The CMS linked all of this content together to create an Expedition page that is dynamically updated when a new Dispatch is written, and creates a full start-to-finish story when complete. Site visitors can learn more about the athletes in the story and see what other expeditions and stories they've been featured in.
More than just a content entry tool, the CMS allows for design decisions by the editorial staff to emphasize content. Photos can be placed within the text or full width for maximum impact. Videos and maps can also be placed inline to provide rich media and geolocation context.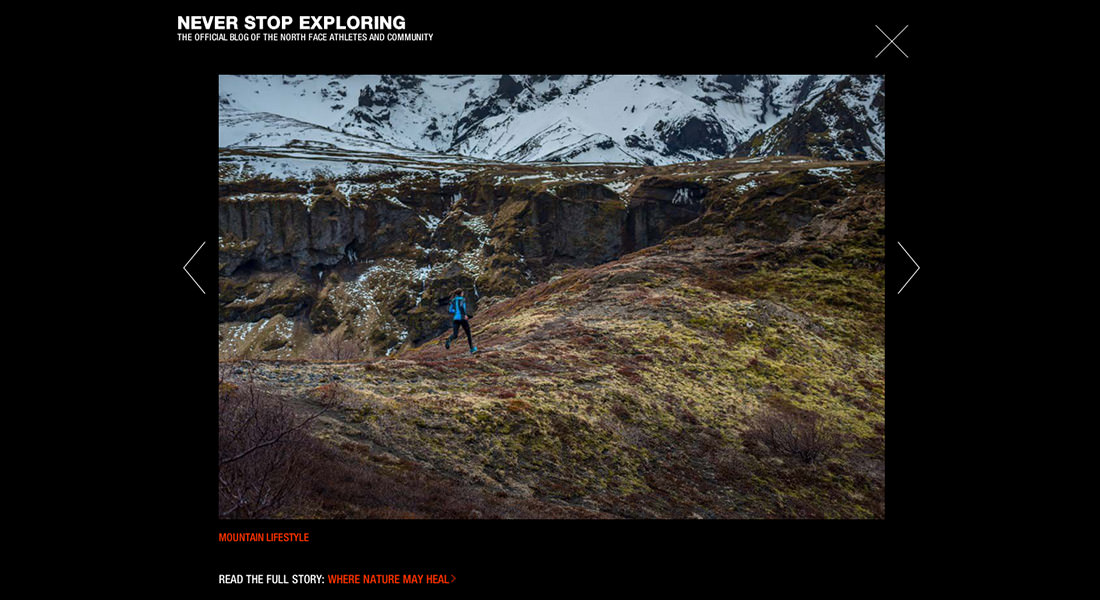 The site structure was also developed with marketing initiatives in mind. Email marketing can drive visitors to specific activity content and multi-year content like stories about Everest through a semantic URL structure. And all story content can feature North Face products which crosslink to the North Face ecommerce website. We certainly want to inspire, but we also want to make sure that inspiration is realized through proper outfitting before site visitors go out and live their own inspiring stories.
All of this is done using a responsive design framework. The site is flexible from a content hierarchy standpoint to create an optimal visitor experience on desktop, laptop, tablet and mobile devices.
---
This project launched while I was Creative Director at Substance. I was responsible for interactive strategy, content strategy, user experience, creative direction, and design.