This was my first time at Outdoor Retailer, one of the world's largest and most comprehensive trade shows for outdoor and adventure brands. What I experienced there was overwhelming, inspiring, a bit puzzling, and the desire to purchase a ton of new gear. (Photo above: the infamous #PDXCarpet with my KEEN A86 trail runners)
With over a thousand exhibitors, there was a LOT to see. Our clients KEEN Footwear and The North Face were of course in the house (with pretty impressive booths). And many of the brands that I've supported financially over the years were there… Icebreaker, Nau, SmartWool, Danner, Stanley, Brooks, Kleen Kanteen, Clif Bar… it was essentially a manifestation of everything in my closet and gear bags. There were also some companies I wasn't familiar with, like Oregon-based Ruffwear Dog Gear (where I got a sweet deal on a new hands-free leash for running with my pup).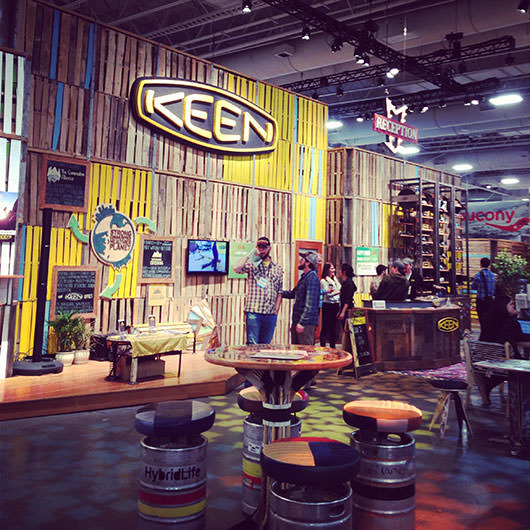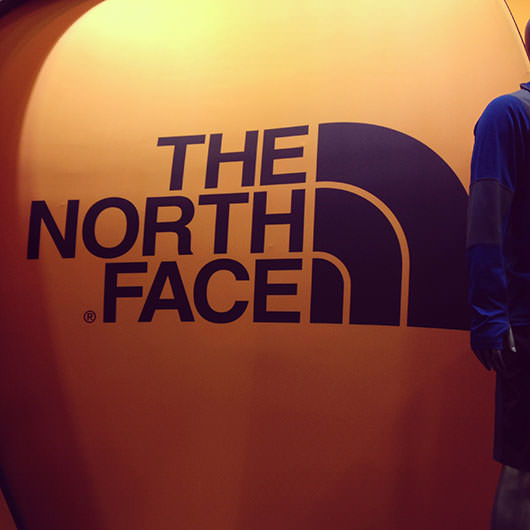 But with 1,000+ booths, it was easy to get lost. There were a few times where I felt I was in a "Kids! Big Ben, Parliment!" loop. Contributing to this feeling was a large quantity of booths that looked essentially the same – a bunch of skis or a bunch of shoes on a wall, with nothing to differentiate one ski company or footwear company from another. There were a few standouts (beyond our clients' booths): the Filson booth was set up like a field camp with canvas tent material, and had a Jeep Wrangler that had been upholstered in Filson style. Another exception was the Speedo booth… I don't think any other booths had hot tubs in them. I knew I should have worn my bathing suit to the trade show.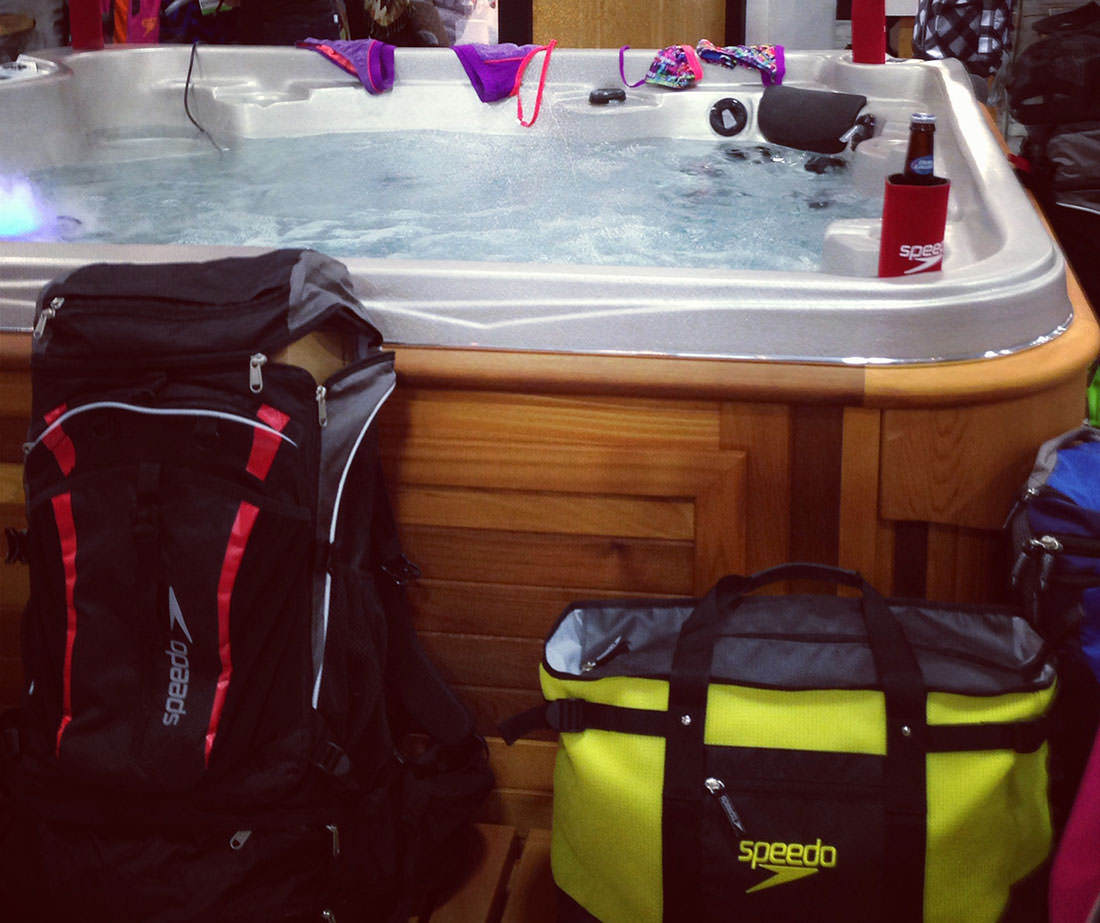 One odd aspect to many booths was a "front-desk feel." I understand the challenges of having who-knows-who wander through whatever booth they want (competitive research, anyone?). But many of the booths felt uninviting and gated by having a desk/counter located in front of a very small booth entrance. Yes, it keeps the riffraff (like me) out. But it made the brands feel very closed, unaccessible, and uninterested in having a conversation. Now I don't know the ins-and-outs of trade show politics and policy, but it felt weird. I would think that companies would want to invite people in, to check out all the cool stuff they're doing, to ask questions, and to have a conversation.
Other booths were very inviting, like the Darn Tough Socks, by providing tasty treats like maple ice cream topped with bacon crumbles. (Recipe: Take one order soft-serve maple flavored ice cream. Dip in big pile of bacon pieces. Eat.) And there were plenty of booths that busted out beer after 4pm, which was certainly friendly of them.
Beyond the maple bacon ice cream, there were a few things that I've thought about since getting back to the office: the role of brand online for adventure brands; and influence of retailer and consumer education on brand.
The Separation of E-Commerce from Online Marketing from Brand
It seemed many outdoor brands have a separation between their e-commerce group and their online marketing group. And these groups are separate from the brand group. I found this puzzling… how can a company communicate online without having all of these groups frequently (at least once a week, if not every day) interacting with each other?
The focus of many in the e-commerce space is conversion: how many people are entering the sales funnel, completing the check out process, and purchasing an item. But conversion rate is also affected by the value a person puts on a product or service – the price, quality, and overall impression of the brand. To say conversion rate is only measured once the shopping experience commences is to leave out all of the expectation-setting necessary to establish a premium brand over a commodity brand. Paying attention to conversion rate once someone has added an item to a shopping cart is certainly important, but it is simply a small part of a much larger picture.
As an adventure brand, you're not selling just a product or a destination – you're selling an experience.
So when e-commerce is separate from marketing, which is separate from brand, you've got multiple groups each focusing on their part of the picture. If these parts aren't working together, you've got three small pictures. We've talked about "Interaction is Brand" previously, but this is especially important for adventure brands. After all, as an adventure brand you're not selling just a product or a destination – you're selling an experience. The experience of what I can do when outfitted with a great North Face jacket is related, yet different, from the specifics about price, waterproofing, materials, colors, etc. All of these elements determine if the price is worth it: do I equate the value of my money with the brand and product promise this jacket offers? When every website has only price and materials to compare one to another, it becomes a commodity game: which jacket is going to get the job done for the least amount of money. Brand elevates a commodity product to a product that has value.
I used the examples below of the difference between brand marketing vs. product marketing in my University of Oregon presentation from November. In 2012, The North Face led outdoor apparel sales in the United States with 33.5% of the market. Columbia (the next closest brand) sold 12.5% of all outdoor apparel. (These stats are quoted on The New York Times website via SportsOneSource, a market research firm. These numbers refer only to apparel like fleeces, jackets, vests, pants and hats, not to backpacks and other gear — and only to products sold by sporting goods retailers like Dick's Sporting Goods and REI.) Check out a commercial from each of the top two sellers: The North Face and Columbia. (Full disclaimer: The North Face is a Substance client, though we had nothing to do with the commercial below or any of their advertising.)
http://www.youtube.com/watch?v=W18EVS3a-mM
The North Face is creating brand desire. The North Face brand represents aspiration, which translates to brand value. Is this why The North Face has 20% higher sales than Columbia, even if Columbia's products are equal in manufacturing and quality?
So back to the point above of the separation of e-commerce from marketing from brand (or to continue the point…), if your e-commerce experience is all about price and features, and no inspiration, you're missing out a huge opportunity to create brand desire. Online, all teams need to come together – inspiration, information, clear call to action, and fulfillment of the Interaction is Brand philosophy through the entire interactive experience.
Retailer Education and Consumer Education
The other large opportunity for brands seems to exist in both retailer education and consumer education. Maybe the types of people I met at the booths were not involved in retailer and consumer education. But in my opinion, education seems like an opportunity for building long-term brand loyalty. A bit of backstory to explain…
About 18 months ago, though a series of events, I decided to start running for exercise. I started with a pair of Nike Frees and a lot of enthusiasm. This enthusiasm quickly changed to excruciating foot and knee pain. What I didn't know was that I needed to ease into minimal running shoes – feet need time to adjust from the over-engineered running shoes and footwear we're used to. But since I didn't know this, I blamed the shoes. Nike didn't live up to its brand promise of creating a great minimal running shoe, at no fault of their own except for the lack of knowledge presented to me on how to approach minimal running. It wasn't until I went online later, researching minimal running, that I found out about easing in and building up. A company that provides this type of education to consumers has a huge brand opportunity to earn trust. In scanning several minimal running shoe product pages across multiple shoe companies, no one seemed to be taking advantage of this touchpoint.
In addition to consumer education, retailer education can play a role in earning brand trust. The more empowered that store staff are with product information, the more knowledgable they become about that product. When a customer asks about a product the sales associate has been educated about, they're going to seem more knowledgable about that product over another.
Education can play a role in earning trust and brand loyalty.
This can be done in a few different ways. One way would be to create a platform for retailer education, product seeding, and feedback loops like what we did for the Nike Running Pacer Portal. A platform like this could be extended to share product education on consumer-facing online platforms. But not everyone has the staffing, development, and fulfillment resources of creating their own retailer education portal. In that case, product education content could be used on retailer-focused, password-protected "pro" sites so retailers can educate their staff prior to product launches. This content could then be displayed on consumer-facing websites once products are launched. The matter of having a content management system that can publish content to multiple places (retailer site and consumer site) is certainly not a trivial undertaking, but by using one set of education content for multiple audiences there is the brand opportunity to teach retailers how to sell your products, and the brand opportunity to build long-term loyalty with consumers by educating them on how to best use your products. For me, if a running shoe company had put some thought into teaching me how to transition to minimal running shoes, they would have gained my trust by being a thought leader and educating me on the safe and responsible way to go about my transition.
So what do these things have in common?
Give people a reason to trust, care about, learn from, and believe in your brand.
The thread that ties the convergence of e-commerce, marketing and brand with retailer and consumer education is content strategy for adventure brands. Inspirational content should be integrated with product content. The brand needs to permeate all aspects of inspiration and information. Product education should be part of the online experience and part of an overall content strategy. Having a content strategy that teaches retailers online extends your brand offline to the store. Give people a reason to trust your brand, to care about your brand, to learn from your brand, and to believe in your brand. They will reward you with their business.
Do I think we're doing this perfectly? Not yet. Our work for The North Face and KEEN Footwear is heading in the right direction – we're linking inspirational content to product content. Our work on the Nike Running Pacer Portal has helped elevate the knowledge base and familiarity with the products in specialty running stores. But we can do better. Adventure brands can do better. As we often say when asked what our "best" project is, it's our next one, as we bring our knowledge from all the previous projects to play, and sometimes our next one is one we're already working on as we continually improve and innovate.
So what did I learn at Outdoor Retailer? There are a lot of opportunities for adventure brands online, and getting in touch with Substance for help in considering an overall content strategy and interactive brand strategy across all departments and communication platforms is a great place to start.
p.s. One other nice thing about Outdoor Retailer is the fact that it's about 30 minutes from Park City. Had a great morning testing out some of my gear at Park City Mountain Resort!