Launching a new business initiative is no small feat, and when it involves one of the premier adventure brands in the world, expectations are extremely high. With the National Geographic Unique Lodges of the World project, we helped affect business strategy and launch a world-class website to support the program.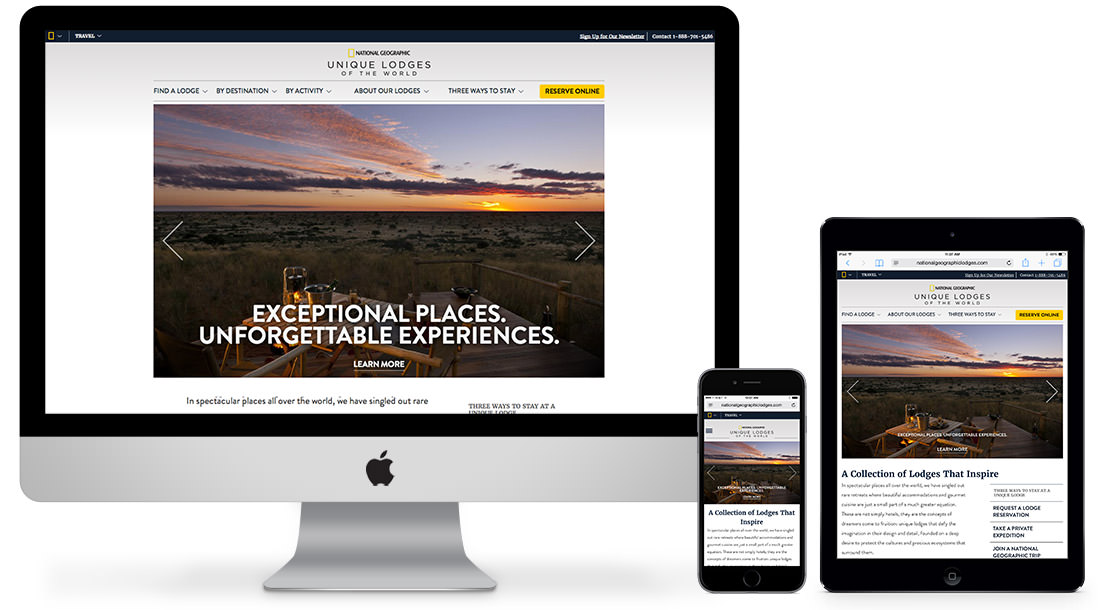 The responsive world of National Geographic Unique Lodges of the World
We worked with National Geographic Travel on a unique project: helping to launch a new global business initiative for The National Geographic Society. We completed an intensive interactive Discovery Phase, competitive analysis, user experience and information architecture, and the site concept and design. Working with National Geographic's internal team and global development partners, we were able to bring the vision of the Unique Lodges of the World site to life.
Understanding the business rules and objectives of the project were paramount in creating an appropriate user experience and design solution. With a complex reservation process, differing amounts of content for each Lodge, and multiple ways to travel with National Geographic, a number of navigational paths and content templates were necessary to handle these needs.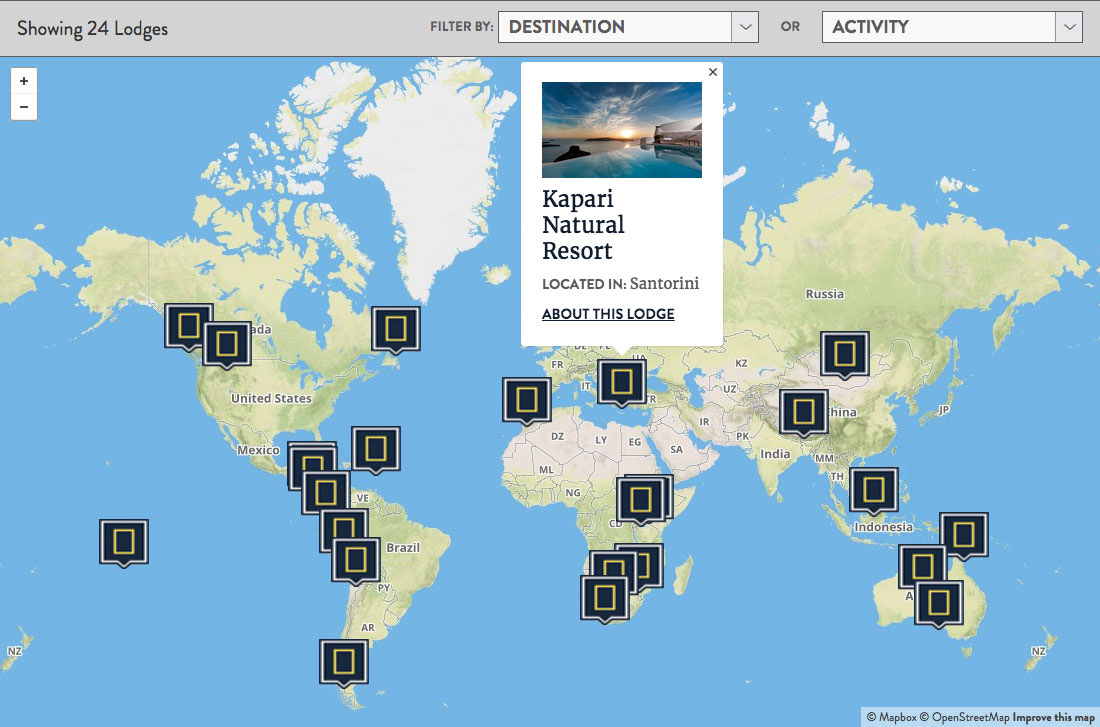 Aiding visitors in finding the right Lodge was one of the most important tasks for the site. There are a number of ways to find a Lodge based on different ways that people might be looking: by list view (when the Lodge name is known), by map (by geographic location), and by providing contextual lists such as "Best Mountain Lodges" or by activity like "Cultural Exploration."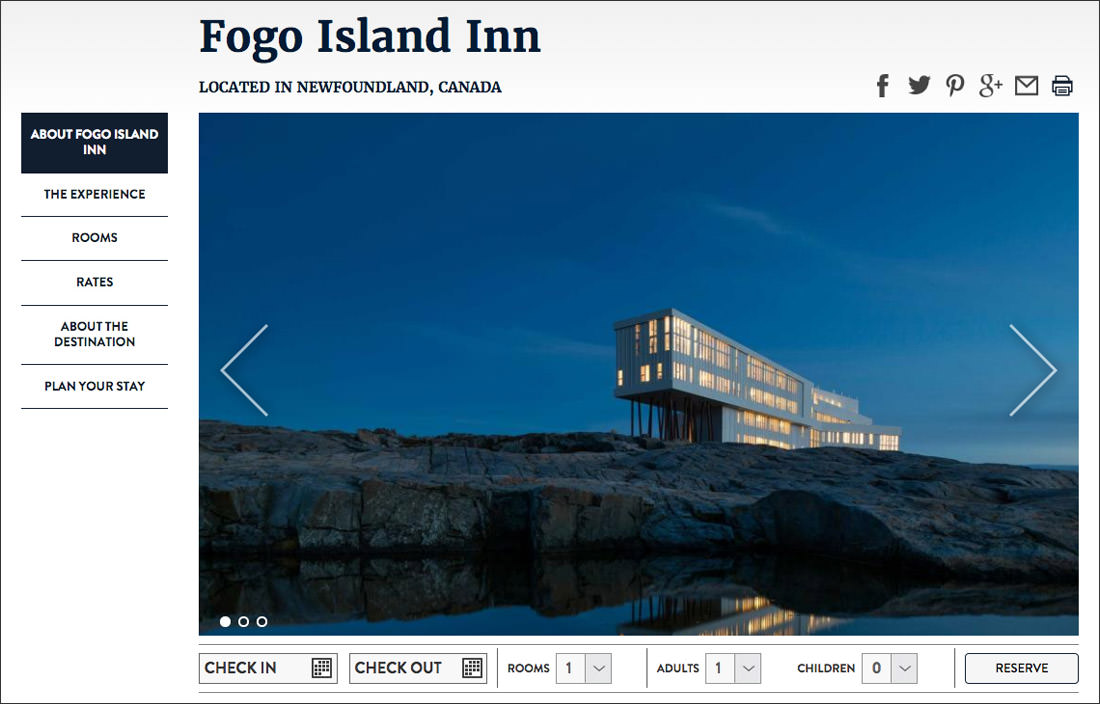 Once a visitor finds a Lodge that looks interesting, each Lodge has a wealth of information. From the experience, to rooms and rates, to more information about the destination and planning your stay, we combine inspiration and information to get people excited about a Lodge and move them down the conversion path to making a reservation.
More than just a hotel website, NationalGeographicLodges.com provides other ways to travel with National Geographic, like Private Expeditions and NatGeo Trips. The Lodge properties all needed to support these additional initiatives, so cross-linking between Trips that incorporated specific Lodges provided different ways to experience traveling with National Geographic.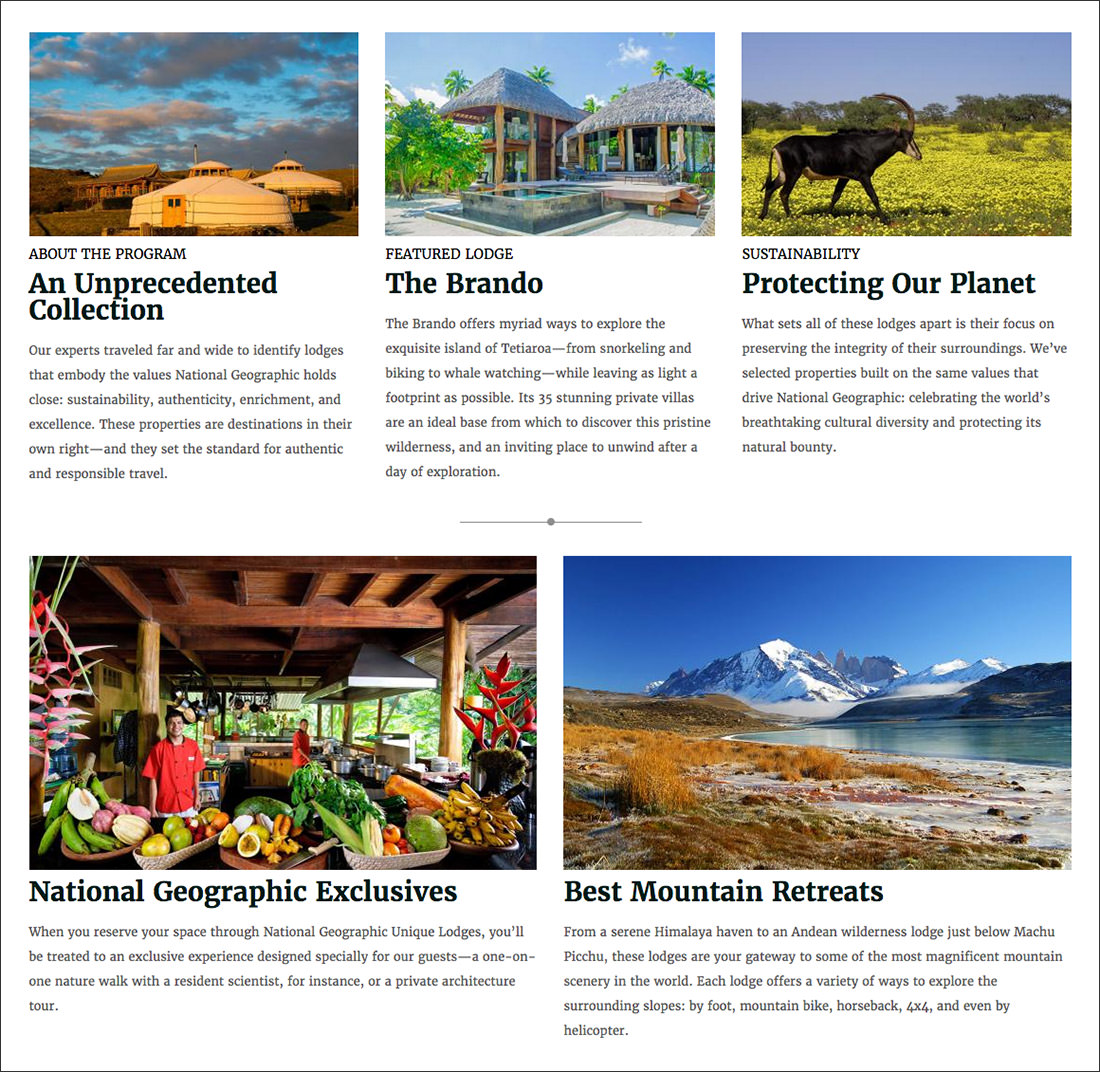 With a comprehensive responsive design solution, the site is ready to be viewed on a number of devices. In fact, the iPhone 6 came out only a couple months before launch (and well past the point of design completion), but with the responsive design approach, the site was future-proof for the newest devices on the market.
Most recently, the Unique Lodges of the World was awarded a 2016 People's Voice Webby Award in the Travel category.
---
This project launched while I was Creative Director at Substance. I was responsible for interactive strategy, content strategy, information architecture, user experience, creative and brand direction, and design.