Local, regional and state marketing organizations have "information competitors" on all sides: Google, Yelp, and TripAdvisor are some of the first places people go when researching a trip. Why should potential visitors come to your site? This was our challenge with TravelOregon.com – to create a trusted resource for Oregon travel inspiration and trip information.
We started by defining what makes Travel Oregon unique and why people would want to come (and return) to TravelOregon.com. What Travel Oregon offers is an editorial perspective and context for content. Hand-crafted itineraries and Scenic Byways provide collections of things to do, see, eat, drink and stay.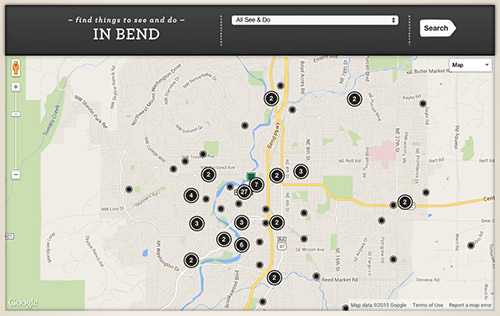 Infinite lists of restaurants or attractions – while important from an overall database of resources standpoint – don't provide a curated quintessential Oregon experience. That being said, there are thousands of resources available for TravelOregon.com visitors, so we created what we call "Finder Bars" that are used across the site – search widgets that allow people to choose recreation and activity types, restaurant cuisine, attractions, types of natural wonders, events… any number of places to see, stay, eat, drink and play. Finder Bars also help people find where to do these things in specific locations, either by choosing the region and/or city, or even using GPS data on mobile devices to find nearby resources.
Key to the content publishing needs was reinventing the CMS. Integrating and importing data from Travel Oregon's central repository of resources (the Orb) with editorial content meant building a system that facilitated extensive data relationship-making and flexible publishing templates based on the amount of associated content. The site needed to support all of this content while remaining responsive to differing screen sizes, from desktop to laptop to tablet to mobile. As part of Travel Oregon's 7 Wonders initiative started in the spring of 2014, we integrated geo-located Instagram photos into the CMS as site content to combine additional inspiration with actionable information.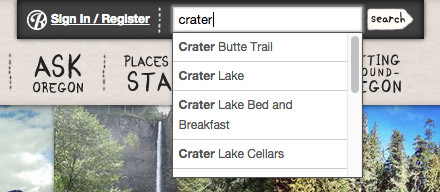 Beyond the site navigation and "mega menus" which provide editorial context for sections of the site, site search is a useful piece of navigation, not just a text field in the upper right corner. We implemented a "suggestive" search where letters and words typed into the search field are queried against content on the site to help people find what they thought they were looking for.
One of the technical features that is a highlight is the responsive design. Depending on the browser size (large desktop, small desktop, tablet horizontally, tablet vertically, small tablet, smartphone), the site layout, navigation and content adjusts to provide an appropriate, relevant browsing experience. We didn't want to go down the path of creating custom applications for a variety of tablet and smartphone platforms, so we felt taking the responsive design approach would help provide an optimal experience for whatever device you're using to browse the site.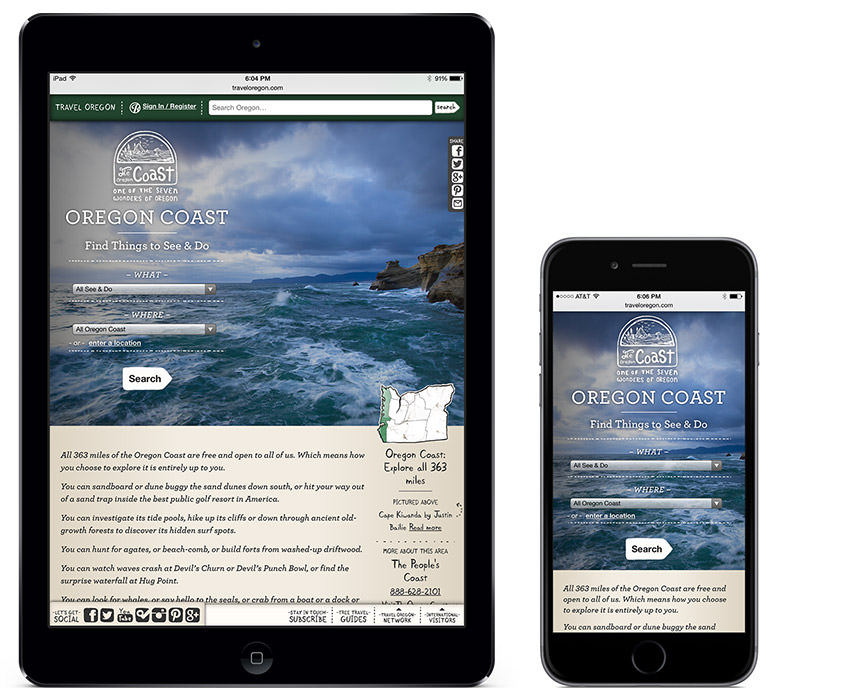 The site structure and CMS enables the Travel Oregon team to publish and feature content across the site, creating new opportunities for storytelling and advertising revenue. One of the biggest impacts of the new site is the independence created between the presentation layer (what people see) from the data layer (the CMS). This allowed us to implement continuous improvements to both the design, content hierarchy and publishing system in small increments instead of ending up with a site that is outdated in a couple years.
The site has been recognized by design and travel industry peers as a Communication Arts Site of the Week, a Webby honoree in the 2013 Tourism category, and a 2013 Mercury Award for Best State Travel Website in the country.
---
This project launched in March 2012, and has undergone several revisions and enhancements since that time while I was Creative Director at Substance. I was responsible for interactive strategy, content strategy, information architecture, user experience, creative and brand direction, and design.